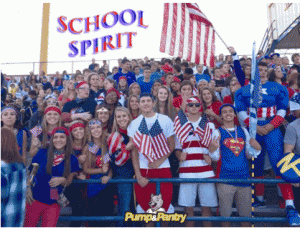 The Nebraska School Activities Association (NSAA) is proud to announce North Platte High School as the Pump & Pantry School Spirit Award recipient for the month of October.
The School Spirit Award Program features NSAA member schools sharing photos of their students and fans emphasizing positive support and excitement at NSAA events via social media. Winning photos are selected monthly and may be featured throughout the year on the NSAA website, additional publications and at NSAA State Championships. As the October honoree, North Platte High School will also receive a $250 gas card provided by Pump & Pantry to support team and fan travel.
North Platte High School has lead the charge with submitting photos from seven separate school competitions. Activities Director Marc Mroczek said, "Our students have instituted a Sportsmanship Council that focuses on good sportsmanship, cheering for our teams and looking to support North Platte activities across the board. The students come up with themes and unique ways to show their school spirit."
The School Spirit Award program has kicked off with a bang with almost fifty NSAA member schools participating to date. Follow @nsaahome #schoolspirit, to see the excitement and spirit across Nebraska!